Field Service Management.

Anywhere. Anytime.
Get field service technicians for any of your IT requests globally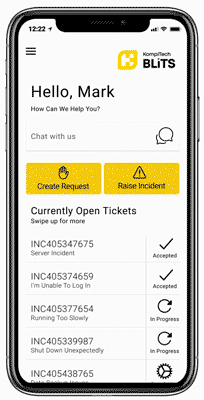 How it works
Learn how to easily log and track your tickets from the BLiTS mobile app.
Request IT support for any location and support your team with trusted and vetted technicians
Raise tickets with a couple of clicks from our mobile app.
Specify the time and date for which you require the technician and leave the rest to us
Our Service Desk autonomous algorithms will identify and assign a skilled engineer that will be dispatched to the specified location.
View progress of your tickets with instant reports
Important information about all generated incidents and requests are available in the reporting dashboard.
Key benefits of the BLiTS Platform
+70%
Faster ticket resolutions with automated processes at the ease of the BLiTS mobile app
-30%
Reduction of Field Service costs and providing a license-free Management tool
100%
Real-time communication of service status, data accuracy, and transparency.
A complete suite of Field Service Management Tools

+


A global eco-system of Field Service Engineers.
Free access to the platform, including the Field Service Management tools.
Access to the BLiTS-Eco, our eco-system of experienced Field Service Engineers is free.
Create tickets and pay per hour only for the tasks completed by the assigned field engineer.
Our Service Desk is available 24/7 for any questions abound your tickets.*


* This feature is only available in the paid subscription See all packages