Ad-Hoc IT Support.

Anywhere. Anytime.
Search and find IT technicians on our global IT Service Management platform for any of your IT requests.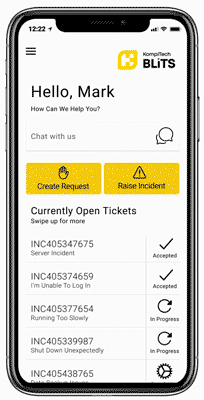 Why KompiTech Ad-Hoc Support?
24/7
Service Desk team
to manage and support you all the way 24/7/365, in handling communication for a faster ticket resolution.
99%
Customer satisfaction guaranteed through our team of experience technicians and service delivery managers.
KompiTech Ad-Hoc IT Services
How it works
Learn how to easily submit, track, and monitor your tickets through the mobile application.
Request IT support for any location, and support your team with trusted and vetted technicians
Raise any IT-related tickets with a couple of clicks from our mobile app.
Specify the time and date you require the technician and leave the rest to us.
Our Service Desk autonomous algorithms will identify and assign a skilled engineer who will be dispatched to the specified location.
View the progress of your tickets with instant reports.
Important information about all generated incidents and requests is available in the reporting dashboard.
A whole free month to try out KompiTech
BLiTS ad-hoc support services
Full access to our 24/7 Service Desk
Access to experienced and professional KompiTech technicians
Request IT help anywhere globally
Instant platform access utilizing KompiTech's online legal agreement - no prolonged legal contract process
Pay by invoice or credit card
Pay per hour of service
Up to 10 tickets included in the basic package
Need more monthly tickets? See other packages.
Common Questions
What does the monthly subscription fee cover?

With the monthly subscription, you'll get our Service Desk support when you need instant help. When you have queries and need answers right away, our 24/7 Service Desk team acts as your single point of contact to provide both reactive and administrative support for routine tasks.

What's the purpose of pay per hour of service?

When you raise a ticket, we'll need to be dispatch a technician to your specified location. The time required by the technician to resolve the issue is billed per hour.

What is the difference between Ad-Hoc and Managed Services?

The Ad-Hoc Service provides you with instant access to the platform and allows you to raise tickets. It's ideal for a one-off request or project, enabling you to easily request a technician to be dispatched onsite. The Managed Services offers a comprehensive IT Service Management with a much larger scope, enabling you to outsource part or all of your IT Service Management.

How to change from the Ad-Hoc Support to Managed Services?

Just contact us if you want to change from an Ad-Hoc Service to a Managed Service.

How do I know that an assigned engineer is qualified to complete my ticket?

We only hire qualified and experienced professionals to ensure that we provide our customers with quality solutions.  We also have developed the KompiTech BLiTS certification program to ensure the highest quality of service.

When can I cancel the subscription?

You can cancel at any time. Cancellation is effective at the end of our current subscription period. For the Annual Plan, cancellation is effective at the end of the year for which you have paid. For the monthly plan, cancellation is effective at the end of the month for which you have paid.